Mold Remediation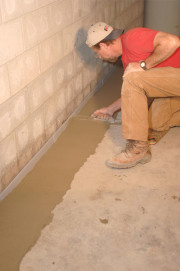 If you've recently discovered mold growth anywhere in your home, immediate mold removal is absolutely critical. Don't let your family or yourself suffer from the harmful effects of mildew, bacteria, and other airborne contaminants that result from the presence of mold. Instead, call the mold remediation experts at Pro Basement Finishers. Unlike other mold companies, we're actually invested in the health and safety of your household, which means we'll work diligently to make certain that the presence of mold in your home is completely eradicated. Moreover, we take precise measures to actually prevent future mold growth by applying products that utilize the latest advancements in environmental science. With our professionals at the helm of your black mold removal, you can rest assured that the condition of your home is in very good hands. Call or e-mail us today to learn more!
At Pro Basement Finishers, our mold cleanup procedure differs greatly from that of other mold companies. Rather than use solvents that cause deleterious effects to the environment, our experts employ only EPA-certified, green technology. We rely on environmentally friendly Duraban™ products that are non-leaching and non-toxic, so you can eradicate your mold without affecting the outside environment. These water-based antimicrobials not only preserve your existing surfaces from further damage, but they also prevent the additional development of viruses, algae, and fungi by forming a permanent barrier against microbes. Other mold companies might use chemicals that work by instantly killing the mold, but these chemicals stop working almost immediately after application. Duraban™ products, on the other hand, provide sustained protection for all of the affected surfaces so your home can remain healthy and hazard-free.
Keeping you and your family as safe as possible, the mold remediation technicians at Pro Basement Finishers have provided long-lasting protection against microbe growth for homeowners just like you since 2005. We're St. Louis's answer for affordable, eco-friendly black mold removal, which means you can count on us for the truly effective results you need. Contact us via phone or e-mail to schedule your mold cleanup service right away.
Mold Specialist
mold removal
Mold Companies
Mold Prevention
mold remediation