Foundation Crack Repair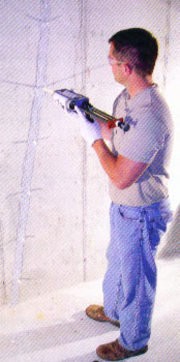 Water takes the path of least resistance as it works its way into your home, so if your foundation has even small cracks, you're likely to see moisture seeping in at those points. Even with the best basement waterproofing system in place, if your basement has cracks, you'll still have a water issue. That's why Pro Basement Finishers is pleased to repair foundation cracks in addition to providing our customers with comprehensive waterproofing solutions. Bringing you one-stop knowledge and expertise for dry basements, our team is here to help St.Louis-area homeowners maintain a safe, healthful home.
Foundation cracks can happen in any home: most of these crevices and minor fissures are caused by the drying and curing of the concrete or from natural settling as your home ages. These cracks themselves tend not to be major issues, as small breaks in your foundation typically don't indicate serious structural problems. However, if they're left untreated, your basement cracks can turn into major threats to your home: even small breaks in your foundation's walls or floors can let in water, which causes two problems. First, as you know, moisture in your basement can foster mold growth and lead to illness for you and your family. Second, if penetrated by water, even tiny cracks can gradually expand due to the freezing and thawing cycle, meaning they won't be small for long. Larger cracks can let in more water—creating more serious mold and health concerns—but they can also undermine the structural soundness of your property! So if you have found cracks in your foundation, don't wait. Call or e-mail us today for foundation crack repair from Pro Basement Finishers. When you call our professionals in for foundation cracks repair, you can help prevent these dangerous complications from occurring on your property.
Pro Basement Finishers works to repair foundation cracks using an effective Webtac system from SafeBasements technologies. After evaluating your foundation crack problems, we'll get right to work sealing the breaks and forming a water-tight patch that keeps moisture out to safeguard your home. At Pro Basement Finishers, our basement crack repair isn't just a surface fix: we inject the Webtac product directly into the fractures to seal them completely. Offering a cost-effective, comprehensive approach to fully eliminate your small foundation cracks, Pro Basement Finishers can both stop active leaks and help keep water out to prevent the further expansion of the fissures. Don't let water compromise your home: get our experts in to help when you require cracked foundation repair.
Pro Basement Finishers provides foundation cracks repair solutions that work for a full range of structure types. Our methods can repair breaks in many kinds of foundations, including
Poured concrete
Concrete block
Stone
And others!
In fact, our foundation crack repair system is even perfect for fixing cracks in concrete floors. Providing you with comprehensive knowledge and solutions no matter where you're dealing with a concrete fissure, our team is ready to help you get your home safe and dry once again. Have questions about any part of our cracked foundation repair procedures or processes? Just give us a call. Our experts are ready to answer any questions you may have!
Crack Repair
Repair Foundation Cracks