Exteriors and Insulation Services
At Pro Basement Finishers, our home improvement professionals offer so much more than just basement remodeling and waterproofing services. We're here to help make your whole house shine inside and out. We perform a broad range of exterior home maintenance and improvement services to ensure your home looks beautiful, provides you with great protection from the elements, and is as energy efficient as it can be. Our goal is to provide you with great savings both on our top-quality services and in the long run with our energy-efficient products. From roofing to replacement windows, insulation to siding installation, we put our expertise to work for you! Have questions about how our team can help with your home improvement project? Just keep reading or give us a call today!
Roofing Contractor Services
Sheltering you, your home, and your belongings from wind, rain, and snow, your roof has an important role in keeping you safe. If it's time to fix or replace your roof, Pro Basement Finishers is available to help. Our team includes professional roofing contractors, and we can help you with both roof replacement and new roof installation. And unlike many roofers, we even provide roofing repair. Serving both residential and commercial customers across the St. Louis area, our expertise spans the full spectrum of roofing materials. Pro Basement Finishers can help with:
Standing-seam metal roofs
Asphalt shingles (traditional and architectural)
Flat roofing
And more
Not sure what type of roof works best for your needs? Just ask. Our roofing contractors are well-versed in the performance benefits of the various roofing materials on the market today, and we can make expert recommendations about roof materials for your home or business. Combining precision installation, affordable pricing, and great customer service, our roofers can help make sure you get the quality roof replacement or installation experience you deserve.
Insulation Contractor Services
Helping you reduce your overall energy usage and decrease the size of your energy bills, insulation installation helps you go easy on the environment and easy on your wallet at the same time. At Pro Basement Finishers, our insulation contractors provide insulation installation for both new and existing structures. We can help increase your home's R-value (measure of resistance to heat transfer) to ensure that heat stays in during the winter and out during the summer. Our insulation contractors are your answer for big savings, so call now to get started.
Pro Basement Finishers works with blown-in insulation from industry leader Owens Corning. This top-notch insulation product can increase your attic's R-value up to R-49, helping you maximize your home's energy efficiency and energy usage. In fact, our blown-in insulation may even qualify you for a $1,500 tax credit. And with our expert insulation company, we can install your new insulation quickly and correctly. We can do an entire attic (1,000 square feet) in less than 90 minutes, and with this high-tech blown insulation, we can completely insulate around tricky spots like pipes and wiring that are often missed with traditional batt insulation. So when you want superior energy-efficiency, our insulation company is the expert for the job. Feel free to contact us with any questions you may have about our insulation products, installation, and more. And, of course, we offer free estimates, so we're more than happy to tell you what the job will cost upfront. Let our insulation contractor pros help your home save you money! Call right away to learn more about blown-in fiberglass insulation.
Replacement Windows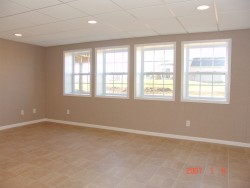 Whether you're dealing with old, drafty windows or you're interested in putting top-quality windows into your new construction, Pro Basement Finishers is the window contractor for the job. Our professionals specialize in both new and replacement window installation, and we can make certain you get the performance you need out of your windows. We work with all styles of commercial and residential windows from large picture windows to small accent windows, and no job is too big for our window contractors. So if you find yourself in need of replacement windows to stop those drafts or help with windows for your new construction, Pro Basement Finishers is on your side.
Energy efficiency is a big deal when it comes to your property's new or replacement windows. The right windows can reduce heat loss (and gain) through your windows by up to 40%. That's a big reduction in your energy usage in both winter and summer and a huge reduction in your energy bills. So if you need new windows, energy-efficient options are the way to go. At Pro Basement Finishers, we can help you find the best windows for your particular needs and explain all of the different energy-efficiency features so you understand how your windows can help you save. Your full-service new and replacement window contractor in St. Louis, we are here to make sure you get the quality products, installation, and performance you need to get the most out of your home.
Siding Contractor Services
Like a coat for your home, your house siding protects your building's structure from wind and rain. Unfortunately, if your siding is old or in disrepair, it's not able to keep out the weather, leaving you exposed to potentially damaging water, wind, and even insects. But if you're in need of exterior siding repair or replacement, you're in luck. As part of our exterior services division, Pro Basement Finishers offers complete siding repair and replacement. We have expert siding contractors on hand to help get your home back to looking—and performing—its best. Whether you're interested in repairing a damaged section of aluminum siding or it's time for complete house siding replacement, call or e-mail us now. We offer free estimates on siding installation, so you have nothing to lose!
We work on both commercial and residential exterior siding installation in the greater St. Louis area. At Pro Basement Finishers, our team is up-to-date on all of the latest advancements in siding installation technology and materials, including high-tech insulated vinyl siding that can help make your whole home more energy efficient. And unlike siding contractors that only work with standard vinyl siding, our professionals offer expertise in virtually every kind of siding available today. Pro Basement Finishers can help you with:
Vinyl siding
Aluminum siding
Cedar siding
And others!
We work with all types of siding, and we're proud to be your one-stop resource for siding installation and repair in St. Louis. If you need additional information, our siding contractor team would love to answer any questions you may have.
Roofing Contractors
Replacement Windows
Insulation Contractors
Siding Contractor