Crawlspace Waterproofing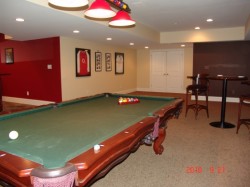 Is your crawlspace damp or musty? Not worried about the problem because it's just the crawlspace? Well, you may want to reconsider! Wet crawlspaces can actually create major issues for the whole rest of your house, so the issue isn't just confined to the crawlspace. Creating problems ranging from structural damage to mold growth that can affect the health of you and your family, crawlspaces with moisture troubles shouldn't just be ignored. If you have a wet or smelly crawlspace, Pro Basement Finishers is your solution for crawlspace waterproofing in St. Louis. In addition to basement waterproofing services, we also seal crawlspaces to help get—and keep—your home safe from moisture problems no matter what its foundation structure. When you need crawlspace waterproofing to safeguard your home and your family, call today. Our basement waterproofing professionals can provide you with additional information as well as a free estimate.
In an unsealed crawlspace, water can condense into droplets on structural elements like the underside of the floor, framing, and more. This creates an ideal atmosphere for growing mold and other microbes: not only can these eat away at the structural materials they contaminate, but they can also enter your home's air, potentially creating very serious health issues. But you don't just have to live with the dangers created by a moisture-prone crawlspace! At Pro Basement Finishers, our team is skilled at waterproofing crawlspaces as well as stopping wet basement problems. We'll evaluate the particulars of your waterproof crawlspace needs and develop a customized solution based on the design of your crawlspace, the extent of the problem, and other relevant factors. Then using the latest technologies from SafeBasements, we'll seal the crawlspace completely, creating an effective barrier between your home and the moisture.
When you have the Pro Basement Finishers experts seal your crawlspace, you'll reap a variety of different benefits, including:
Protection against moisture-based structural damage. Water in your crawlspace can create dry rot, mold, and other harmful conditions that cause the actual structure of your home to gradually deteriorate. Keeping the moisture out, our crawlspace waterproofing systems can help keep your home healthy and strong for years to come.
Protection against poor air quality. Moist conditions foster mildew and mold growth. These problems can eventually contaminate the air you breathe in your home, leading to respiratory problems, allergic reactions, and other health complications.
So if you're ready to keep both your house and your family safe, we're ready to help. Get our waterproofing contractors on your team and get started down the road to a safer, sounder home!
At Pro Basement Finishers, we work to make sure that sealing your crawlspace off from water doesn't cost you an arm and a leg. Using cost-effective products and methods from SafeBasements, we'll help you get your crawlspace dry without breaking the bank. Helping area homeowners overcome wet crawlspace problems since 2005, you can count on our team for reliable, long-lasting crawlspace sealing at a great price. Get started when you contact us by phone or e-mail now!
crawlspace sealing
crawlspace waterproofing
waterproof crawlspace