Basement Waterproofing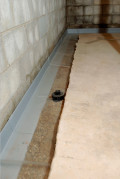 Before


After
If you have a cold, wet basement, don't just put up with the musty smells and chilly discomfort. Instead, make your home safe and livable again with the basement waterproofing systems available from Pro Basement Finishers. Whether your basement is prone to frequent leaks or just maintains a perpetually damp state, you'll be blown away by the endless benefits of a waterproof basement. Don't settle for substandard waterproofing systems or mediocre handiwork—to get a thoroughly dry basement that will stay that way, Pro Basement Finishers is your only solution. If you'd like to learn more about the particular basement waterproofing methods that we employ, don't hesitate to contact our professionals via phone or e-mail.
Since 2005, our basement waterproofing contractors have been assisting St. Louis-area residents with all of the wet basement problems they encounter. We specialize in a unique type of waterproof basement system that you won't find from any other home improvement company in the area. Designed by SafeBasements Waterproofing Systems, the one-of-a-kind technology and equipment that we use are the most effective in the industry, which means you won't get the same results from a French drain, drain tile, water guard, or other system. Providing you with a completely dry basement no matter what the season, the SafeBasements system:
Drains water from perimeter walls
Lowers the water table below the floor
Does not require an additional dehumidifier
Does not require additional drainage floor covering
Works with radon systems
Prevents erosion and drainage clogs
Improves indoor air quality

At Pro Basement Finishers, we take the health and safety of your home very seriously. That's why we are one of the few home improvement companies that will provide you with this affordable, yet comprehensive, solution for your wet basement. While other popular waterproof basement systems leave a few stones unturned, our SafeBasements technology eradicates every potential drawback by controlling moisture right at its source. With the cutting-edge basement waterproofing system that we offer, you'll never see another basement leak again!
If you're sick of the unpleasant odor and dank feel of a wet basement, call Pro Basement Finishers. With our reasonable pricing and superior workmanship, we'll get you the dry basement you deserve without breaking the bank! Contact us via phone or e-mail today to schedule your FREE inspection.
Dry Basement
Basement leak
Basement Waterproofing Contractor
Basement Waterproof
Basement Waterproofing Company